Keeping fit at home
While we are unable to do our normal PE lessons we have created this resource for you to try at home.
If possible, try to do the activities as a family.  Exercise is very important for both your mental health and physical wellbeing. The PE Department at Manchester Health Academy want to support you as much as possible.
With the current lockdown it is of course vital that we listen to government advice and only go out for permitted reasons. One of these is to take a daily form of exercise. We suggest that you aim for 30 minutes of brisk exercise x5 days per week — this could be achieved through walking, running, fitness video's and cycling in areas close to home. The exercise should be enough to make you a little out of breath to achieve the most benefits. Of course, this only applies to you if you are well — any viral symptoms including possible COVID-19 means that you must rest until you have fully recovered.
Good luck and we will see you soon,
Mr Brown and the PE Team
Fitness workouts from the PE Team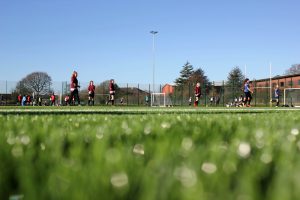 The Academy's PE Department have put together a wide choice of online fitness workouts for you to try at home – give yourself a challenge and stay healthy! Open this powerpoint file as a slideshow, and click on the pictures to link to each workout: PE Home Learning Jan 2021
Can you beat the teacher in these fitness challenges? The teacher challenge
How far can you travel? Travel the World Challenge
More information: Manchester Health Academy- Exercise Booklet
Be Active at Home
MCRActive's new Be Active at Home Campaign is packed full of resources to help your school community stay active and healthy at home. With over 40 free live-streamed classes and ideas and resource packs for fun ways to get active, there really is something for everyone. Check out the 'For Kids' and 'For Families' sections for hints and inspiration to keep your school family moving this lockdown.
The Daily Mile at Home
The Daily Mile have produced a series of weekly challenges to support families to keep active and look after their mental and physical wellbeing this lockdown. Walk, jog or run, the Daily Mile at Home is free, fun and a great way of keeping moving this lockdown. Details of all the challenges can be found on their website: The Daily Mile at Home.
Manchester United Foundation Weekly Challenge